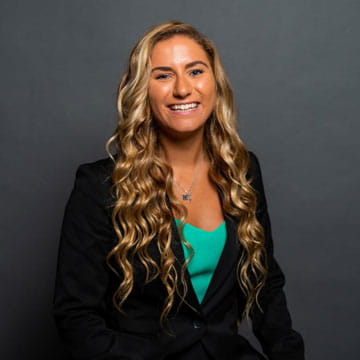 Madi
Decker
Practice Marketing Associate
Madi Decker, Craig's oldest daughter, joined Decker Global Wealth Group full time in June, 2022.
Madi graduated Magna Cum Laude from Merrimack College in the Spring of 2020, with her Bachelors of Science in Business Administration, with concentrations in Corporate Finance and Sport Management. While at Merrimack, Madi was a 4-year varsity athlete on the Women's Swim Team, Team Captain, a member of the Student Athlete Advisory Committee (SAAC), Sport Management Club, and worked various roles in Merrimack's Athletic Department.
Before joining Decker Global Wealth Group full time in 2022, She interned with the group in 2017 and 2018, while a student at Merrimack College in North Andover, Massachusetts. After graduation, in May 2020, Madi began her post grad career in Miami, Florida with the Miami Dolphins and Hard Rock Stadium. During her time in Miami, Madi was an Account Executive for the Miami Dolphins and a Group Sales Account Executive for the Miami Open Tennis Tournament.
Madi is our Practice Marketing Associate, working to grow our professional athlete division here at Decker Global Wealth Group.
When she isn't in the office, Madi enjoys swimming, going to the gym, walking her dogs, waterfowl hunting, and fishing.